Toll-Free 888-481-6936
Wet Collectors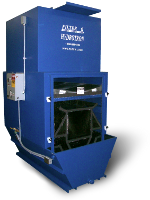 Uses
Airflow Systems Southwest provides wet-type dust collectors with a water filter system to provide safe collection for aluminum, titanium, or other potentially explosive dust. Our wet collectors are utilized for sanding, grinding, buffing, and polishing in applications such as aircraft manufacture and maintenance, metal enclosure fabrication, and medical device manufacturing.
Available Models
Hydrotron

HWF

Series — Ducted wet dust collectors with air flow capacities from 1000 to 20,000

CFM

.
Hydrotron

DHYD

Series — Self-contained wet collector downdraft tables in single or double (back-to-back) configurations with air flow capacities from 3000 to 5000

CFM

.
Hydrotron

HPB

Series and

HPB

MII

Series — Self-contained wet collector environmental control booths with air flow from 5500 to 48,000

CFM

.
Features & Benefits
Meets

OSHA

and

NFPA

regulations for dust removal within the building.
No expensive filters to replace.
Direct drive / non-overloading fan for durable performance.
Re-circulates filtered air for savings on cooling and heating costs.
Automatic fill system with a pressure sensor system is unaffected by debris in the water.
Fume Scrubbers
Uses
Airflow Systems Southwest offers custom-designed packed-bed fume scrubbers to remove water-soluble contaminants, chemicals such as Nitric Acid, Hydrochloric Acid, Sulfuric Acid, Phosphoric Acid, and Chromium Compounds. Scrubbers provide high-efficiency, low-maintenance performance for a broad spectrum of industries, including aerospace, anodizing, chemical manufacturing, etching, metal finishing, municipal waste treatment, and semi-conductor chemistries.
Custom Design
Units can be built in either horizontal (crossflow), or vertical (countercurrent) designs, depending on space limitations or layout preference. Scrubbers can be custom designed with specific parameters such as cross-section, packing type and depth, recirculation rate, spray pattern reinforcing based on specific conditions and the scrubber efficiency required.
Construction
Our fume scrubbers are built of solid fiberglass, filament wound, CPVC, and polypropylene for maximum corrosion resistance under the most severe duty conditions.
Applications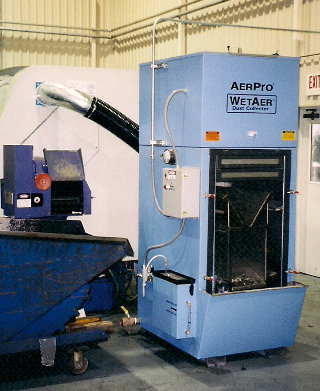 Application: Tiatanuim Dust Removal/Mist Removal
Product Type: Wet Collector
Type of Dust/Contaminant: Titanium