Toll-Free 888-481-6936
Parts Washers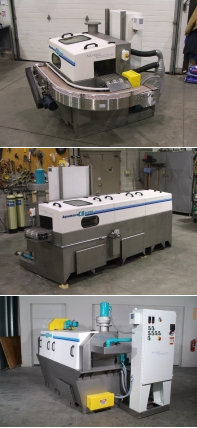 Airflow Systems Southwest offers a wide variety of parts cleaning equipment, from manually-loaded to fully automated systems. We have
high-pressure water and detergent wash systems suitable for all kinds of industrial components, including machined parts, stampings, weldments, molds & dies, hobbed gears, castings, plated parts, tooling, screw machine parts, and plastic / fiberglass parts.
Our aqueous cleaning equipment ranges from "standard" conveyorized belt washers to "custom" designed machines engineered for specific cleaning applications, for parts weighing several ounces to those that are hundreds of pounds.
Airflow Systems Southwest offers the "Aquamaster" lines of conveyorized systems for cleaning parts in a continuous flow by belt, monorail, rotary drum, palletized conveyor or other methods as well as the "Aquamate" lines of batch process parts cleaning systems.